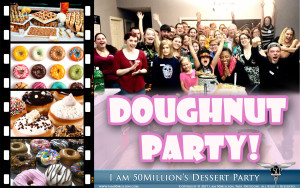 After a great conversation with our good friend Janae the idea of a Doughnut Party came up.  Now it's a reality!  This is a great event where everyone is invited to come out and enjoy a dessert party with the most AWE50ME people you have ever met ;).  We will have a great event that will be full of fun with old and new friends.  It's a potluck so feel free bring your favorite doughnuts or dessert to share.  This is a party to celebrate each other so don't feel obligated to bring anything other than your AWE50ME self ;).
Details?  
We will set up a table with desserts and doughnuts.  We will have some games so everyone can play.  It's a social event for everyone and we will also celebrate August birthdays.  Don't miss out on this very special event.
See you at The 50 Dome!