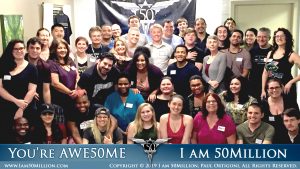 Details
Making My Life Amazing is our monthly event where we do workshops on becoming better versions of ourselves while helping others. We take pride in making everyone feel welcome in our group. We have many events that are fun and tailored for everyone to enjoy even if it's their first time.
With that said, this event is tailored for those who have been coming out to I Am 50Million events. Join us at our other events, make friends, have fun, and after you have enjoyed our group come out to these workshops to work with highly motivated people.
If you are interested, ask at any of our events for the details of the next workshop. These workshops like many of our events are donation based but donations are not required (all donations help with event and group costs). Come out and have an AWE50ME time!
Facebook:
http://www.facebook.com/iam50million
Meetup:
Instagram:
#iam50Million http://instagram.com/iam50million
Twitter:
@iam50million http://twitter.com/iam50million
Youtube:
http://www.youtube.com/iam50million
If you need to speak to any of us you can call (530)IAM-50ML (530-426- 5065).
Copyright © 2019 I am 50Million, Paul Ortigoni, All Rights Reserved.